Casting for Hope's Hope in the Hills
Great news–Casting for Hope is once again bringing the opportunity to have a great evening for a great cause in Morganton, North Carolina.  Get ready for Friday, October 20, 2023 at Hidden Hills on Burkemont Mountain for one of our favorite events.  You can reserve your tickets here today!  
Hope in the Hills!
Introducing Our Musical Guests
Rodes Baby
Rodes Baby (MK Rodenbough) has been anxiously awaiting this day for a long time. They grew up writing songs on a cheap Yamaha keyboard in their family's basement in North Carolina, and testing them out at local coffee shops before they were old enough to drive. After several years of playing shows around the vibrant and collaborative music scene of the NC Triangle, they ran a successful Kickstarter campaign in 2019 that allowed them to record their first album. Then the pandemic hit.
Suddenly needing to settle into a job that kept them on the frontline, music took a back seat. Now, nearly a year and a half later, they're looking forward instead of sitting still. They rdelease their debut record, All Of My Friends, on November 19th, 2021.
All Of My Friends chronicles the fits and starts of early adulthood in all its bare-skinned intensity. Produced by Alex Bingham (Hiss Golden Messenger, The Dead Tongues), the album balances folk influence with 90s-esque indie rock. Rodenbough's voice, however, transfigures the familiar into something newly poignant. All Of My Friends strikes a chord deep in the heart, creating reverberations that resonate long after the first listen. Their vision is tear-blurred, but absolute, and as colorful as the tenacious kind of imagination that makes it out of childhood alive.
After featuring MK's sibling Libby Rodenbough (Mipso) at many of our past events, we are so excited that Rodes Baby can make their debut Casting for Hope performance this year!
Charly Lowry
Charly Lowry, from American Idol and a musical powerhouse from Pembroke, NC, is proud to be an Indigenous woman belonging to the Lumbee/Tuscarora People. As an Artivist, she is passionate about raising awareness of issues that plague underdeveloped and underserved communities. Since her teenage years of studying the sounds of Motown, Pura Fé, Mariah Carey, Celine Dion, Whitney Houston, and southern gospel, Charly has established a career as a professional singer-songwriter (acoustic/electric guitar and Native American hand drum) who is known for her strong, passionate voice and versatility. Over the past decade, Charly has toured extensively as lead singer and recording artist. Her most recent project, "CHARLY", uses Lowry's life experiences as guides to her career in music that is focused upon increasing Indigenous visibility on a global scale; revitalizing and preserving culture, whilst exploring genres of world, soul, country, folk, blues, rock, and roots music.
Charly says "Indigenous peoples are not monolithic; our varied forms of resistance and adaptation are prolific, including art forms that bring value to any table. As such, my musical offerings have a place on all stages in the public sphere – whether it be in world, folk/Americana, Country, rock, soul, blues, r&b, or popular music arenas. I am but a vessel."
The Casting for Hope team is thrilled to feature Charly Lowry at this year's event and can't wait for you all to hear of her connection to our cause.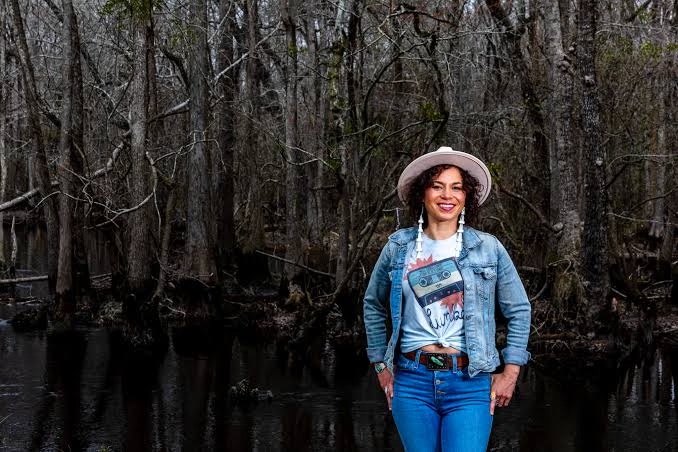 Michaela and the Mountain Shadows
Michaela and the Mountain Shadows are a local group from Morganton. Michaela is joined by Tim Pittman, Eric Woody, and Mark Whisnant. Michaela has enjoyed returning to Morganton and playing at local venues, while Tim, Eric, and Mark often play locally with their musical group Mason Jar Poets. This group has played many past shows together and have even been a part of some of the early Casting for Hope music events. This 4-piece cover band enjoys putting their own spin on both current and classic hits from a variety of genres including folk, pop, and classic rock. The Casting for Hope team cannot wait to bring back Michaela and Tim Pittman to supporting our cause.
Two things we can assure you if you attend:
You will be supporting a charity that is doing great things for women in western NC who are faced with the challenge of their lives in the battle against a gynecological cancer.

You will have an evening to remember–great music, food, drink and time with a lot of friends.  You can't help but have a fun night.
KEY INFO:
What:  Hope in the Hills
When:  October 20, 2023, from 6:00pm until……..
Where: Hidden Hill Venue
So What Will You Experience That Night?
Some of our favorite entertainers will join us for a wonderful night of entertainment! Musically, the event will include Rodes Baby, Charly Lowry, and Micaela Pittman and the Mountain Shadows. You'll hear directly from women and families who have benefited from Casting for Hope's work in our communities. And you'll enjoy some great food, drinks, and company.
Food and Drink: Countryside Catering will be providing the delicious dinner.  Complimentary beer and wine offerings will be served all evening provided by a range of Santa Barbara wineries (specific producers represented will be forthcoming as these sponsors come onboard), Craft'd and Fonta Flora Brewery.  
Fun:  An evening full of beautiful viewscapes from the edge of Burkemont Mountain at Hidden Hill Venue at the peak of leaf season, great entertainment, wonderful food and drink, and helping others by your support of Casting for Hope can't help but be a fun night with friends!
Ticket Levels:  We will sell 200 tickets so act fast!  All tickets will be $75 and be inclusive of all entertainment, food, and drinks for the evening.  
If you are interested, please head on over to our new event management platform and order your tickets!   If you have any questions, reach out to [email protected] or [email protected]. Note that tickets will be sold on a first-come-first-served basis.
Thanks to all of our supporters for considering coming to this annual fundraiser.  If you can make it, we feel confident you will have a great evening of family fun!